OUR SERVICES
RESIDENTIAL & COMMERCIAL EXTERIORS
Your Local, Full-Service Exteriors Contractor. Contact us today for a free at-home consultation.
Schedule a Free Consultation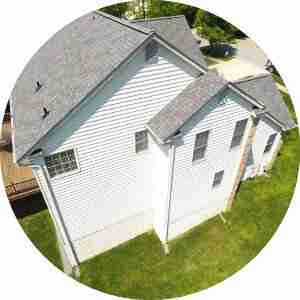 SIDING
New siding installation
Full siding replacement
Vinyl siding
WINDOWS
Window replacement
New window installation
Windows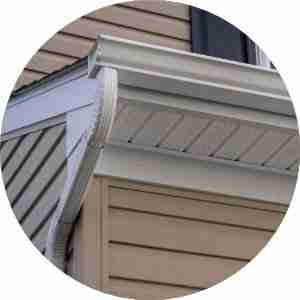 GUTTERS
New gutters
Gutter replacement
Gutter installation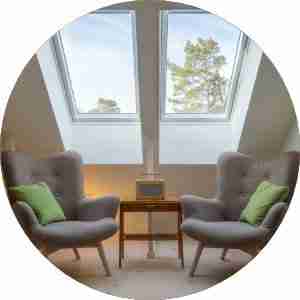 SKYLIGHTS
New skylight installation
Skylights
Skylight company
IN-DEPTH & ON-POINT INSPECTIONS
We offer free roof evaluations and inspections with state of the art drone technology, and we only suggest roofing work that needs to be done.  Here's just some of what we look for…
Masses of moss and lichen, which could signal the roof is decaying underneath.
Cracked and worn rubber boots around vent pipes.
Damp spots alongside fireplaces.
Siding and gutters hanging or falling off
Shingles that are buckling, curling, or blistering.
Peeling paint on the underside of roof overhangs.
Cracked caulk or rust spots on flashing.
Missing or broken shingles.
Water stains on pipes venting the water heater or furnace
Customer Testimonials
We love hearing from our customers! We invite you to read many more 5-Star reviews and testimonials from our clients.
Excellent experience and timely communication with Quincy

Ameer was very nice and super professional. He came on time to the first appointment for the free estimate... read moreAmeer was very nice and super professional. He came on time to the first appointment for the free estimate and then completed the roof in one day. Our new roof makes our home look brand new. Thanks Ameer. I would definitely recommend American Choice Exteriors to anyone that needs roofing work doneService: Roof repair read less

I have never taken the time to write a review. However, I felt the need to share my experience... read moreI have never taken the time to write a review. However, I felt the need to share my experience concerning my roof replacement with American Choice Exteriors. American Choice Exteriors came highly recommended to me by a friend in the home remodeling business. I was very pleased from the beginning to the end with my experience. Amer came to my house and gave me a complete list of all that needed to be done to my roof. I had an old roof and a water leaking problem. He took the time to explain to me the options and his recommendation for my roof replacement. The installation crew showed up when expected and very professional. In closing, my yard was left very clean and I thank you for a job well done.

Sincerely,
H. Wood read less

Working with Amer and the entire team at American choice exteriors was a very pleasant experience .Their... read moreWorking with Amer and the entire team at American choice exteriors was a very pleasant experience .Their cost of our roof replacement was quite affordable when compared with the other quotes we had from other contractors. Amer was open and sincere in guiding us through the whole process and was readily available for any concerns we might have. The icing on the cake was the drone images and video of before, during and after the project that Amer sent to us. I will be happy to recommend American choice exteriors anyday. read less

I lost quite a few shingles on my roof about a year ago. From the ground I could only see... read moreI lost quite a few shingles on my roof about a year ago. From the ground I could only see two or three missing and really didn't have $$$$$ for a new roof so nothing was done. Then comes American Home Exteriors...specifically Amer, the owner, with his drone. He finds missing shingles on almost every slope. He helped with my insurance, color selection, communicated well, and his team gave my home an absolutely beautiful new roof. No traces of any work left on the ground. An amazing experience from A-Z!!! It would be foolish to not call American Home Exteriors if you need roof work! read less

Right from the beginning, from inspection, insurance and all the way through replacement of roof, they did a great job.

Excellent workmanship and recommended them to numerous friends and neighbors. Very pleased overall.

I love the guys they did an awesome job, they are great i very appreciate their work. 👍👍👍Services: Gutter installation,... read moreI love the guys they did an awesome job, they are great i very appreciate their work. 👍👍👍Services: Gutter installation, Roof installation, Roof repair, Storm / wind damage roof repair, Roof inspection read less

Excellent work... I would recommend this company to anyone looking for a quality job. Not only did the owner supervise... read moreExcellent work... I would recommend this company to anyone looking for a quality job. Not only did the owner supervise the work but he made it certain I was 100% satisfied & fixed 1 minor thing without hesitation. read less

Very professional. They handled the whole process with my insurance and solar panel company.Services: Roof repair, Roof installation, Roof inspection,... read moreVery professional. They handled the whole process with my insurance and solar panel company.Services: Roof repair, Roof installation, Roof inspection, Storm / wind damage roof repair read less

Received excellent service from Emer and his team. He came out to my home, flew his drone over the property... read moreReceived excellent service from Emer and his team. He came out to my home, flew his drone over the property and was able to diagnosis the issue with my roof on the spot and performed the repair same day. Also provided me with a detailed report of the assessment complete with drone aerial photos. Would not hesitate to contact him for my roofing needs again!!! read less

Excellent work and I am 100% satisfied......The roof replacement is super professional and fast completed. American Choice Exterior is highly... read moreExcellent work and I am 100% satisfied......The roof replacement is super professional and fast completed. American Choice Exterior is highly recommended based on my great experience. read less

professional and reliable , will hire again !Service: Roof repair

We are extremely happy with the customer service and the quality of the roof replacement. Quincy is very knowledgeable and... read moreWe are extremely happy with the customer service and the quality of the roof replacement. Quincy is very knowledgeable and very pleasant to work with. He guided us through the process and the installation was done in a day. The new roof is beautiful! I highly recommend American Choice Exteriors. read less

It was a pleasure working with Quincy. He was great throughout the entire process. Our roof looks great, and it's... read moreIt was a pleasure working with Quincy. He was great throughout the entire process. Our roof looks great, and it's even quieter inside the house during those loud downpours. read less

We had an excellent experience with American Choice Exteriors in replacing our roof. The installation was super professional with minimal... read moreWe had an excellent experience with American Choice Exteriors in replacing our roof. The installation was super professional with minimal disruption, completed quickly and with a superb result. In particular they did a great job on every aspect of the project, from coordinating the insurance to communicating with us to helping us pick materials. I Highly recommend American Choice Exteriors for your roofing needs. read less

TheMotorshops ..

6/24/2019

Very professional and punctual. Explained the choices offered in detail. Great customer service.

Amer and crew were very professional. My shingles blew off my roof and they repaired the fix within 1 day.... read moreAmer and crew were very professional. My shingles blew off my roof and they repaired the fix within 1 day. Then later in the year more shingles in another area blew off,. Amer walked me through the entire claim process and took care of everything for me., right down to contacting my HOA for shingle approval. Very little work on my end. I recommend and will use American Choice in the future. They ROCK!!!! read less

I was thoroughly impressed with their punctuality and professionalism. My new roof looks amazing! I'm so pleased I... read moreI was thoroughly impressed with their punctuality and professionalism. My new roof looks amazing! I'm so pleased I chose American Choice Exteriors. read less

American Choice Exteriors did a great job replacing my roof. Very polite workers and very neat. Didn't find any roofing... read moreAmerican Choice Exteriors did a great job replacing my roof. Very polite workers and very neat. Didn't find any roofing materials or nails in my yard after they were done. Amer was the best contractor to deal with. Was great from the start of the process to the very end. Definitely recommend American Choice Exteriors. read less

I had a great experience with American Choice Exteriors! I was so impressed with how efficient and professional they were.... read moreI had a great experience with American Choice Exteriors! I was so impressed with how efficient and professional they were. I will certainly be referring them to my friends and neighbors!Services: Roof repair, Roof inspection read less

Had a great experience with Quincy. The turnaround time and professionalism we experienced made the process of repairing our... read moreHad a great experience with Quincy. The turnaround time and professionalism we experienced made the process of repairing our roof much easier and stress free! read less

Quincy Hill was very courteous, explained available options in a professional manner, and he was responsive to our requests about... read moreQuincy Hill was very courteous, explained available options in a professional manner, and he was responsive to our requests about scheduling the date, very understanding of our situation with regard to keeping noise low, and he coordinated with the roof replacement workers who were efficient, on time, completed the work in a professional manner, and removed all debris and left the area clean. I recommend American Choice Exteriors without any reservation. read less

We had a really good experience with American Choice Exteriors, and specifically with Bradley, who was incredibly professional, hard-working, and... read moreWe had a really good experience with American Choice Exteriors, and specifically with Bradley, who was incredibly professional, hard-working, and knowledgeable. In addition to some minor roof issues that Bradley was able to quickly diagnose, advise on, and help to address, he also helped us install gutter guards - and was very good at helping us understand various price points, installation options, and trade-offs. We felt comfortable during the entire process and will definitely plan to use American Choice Exteriors (and specifically Bradley) again in the future. read less

I had an excellent experience with American Choice Exteriors and the Project Manager, Quincy was great! Quincy was very... read moreI had an excellent experience with American Choice Exteriors and the Project Manager, Quincy was great! Quincy was very knowledgeable, professional, hard-working and very responsive to my questions regarding the process. American Choice Exterior replaced my roof and also contracted a vendor to remove my solar panels and reinstall them within a week timeframe when my solar company informed me they will not have a team available for at least 2 months. Quincy also arranged the repair of interior damages. All work was completed in a timely manner, my property was protected while the work was being performed and left clean upon completion. My roof looks amazing! I'm happy with the end results as well as with the process & would recommend American Choice Exteriors. read less

We had an excellent experience with American Choice Exteriors in replacing our roof. The installation was super professional with minimal... read moreWe had an excellent experience with American Choice Exteriors in replacing our roof. The installation was super professional with minimal disruption, completed quickly and with a superb result. In particular they did a great job on every aspect of the project, from coordinating the insurance to communicating with us to helping us pick materials. I Highly recommend American Choice Exteriors for your roofing needs. read less

Amer provides exceptional customer service. I love my roof with the architectural shingles. Gives the house a whole new look!... read moreAmer provides exceptional customer service. I love my roof with the architectural shingles. Gives the house a whole new look! They were done the job in one day! And he did a little extra and was patient with my questions. And helped me through the insurance process: Thumbs up time America Choice. read less

American Choice Exteriors is a excellent company! The customer service we received was the best!! Amer and his did a... read moreAmerican Choice Exteriors is a excellent company! The customer service we received was the best!! Amer and his did a wonder job. The materials used was great. Amer explained everything that would be done to our roof. They was very punctual. I thought that it would be an all day process. Nope from start to finish four hours. They cleaned up after they finished. We would recommend American Choice Exteriors to anyone who needs a roof. read less

This company has been extremely pleasant to do business with. It's hard to find honest and hard working people but... read moreThis company has been extremely pleasant to do business with. It's hard to find honest and hard working people but it was smooth sailing from start to finish. They did an amazing job on my roof. The roofers were very thorough from install to clean up. The owner was onsite to make sure everything went as planned and all questions and/or concerns were addressed in a timely manner. Would recommend to everyone!! read less

Amer is a very knowledgeable, professional and honest businessman. He runs his business at a very high standard. ... read moreAmer is a very knowledgeable, professional and honest businessman. He runs his business at a very high standard. He is loyal to his customers and provide thorough reports, services and guidance.I am impressed with American Choice Exteriors and would recommend them to any homeowner for roofing repairs or replacement and/or services.Amer knows the difference in the roofing materials and the proper way for installation. He guarantees his work.This is an excellent company to work with for any of your roofing needs. I highly recommend American Choice Exteriors as your first choice.Sincerely,Cynthia Harris read less

We are in the middle of buying a home and after the home inspection, we requested a quote from American... read moreWe are in the middle of buying a home and after the home inspection, we requested a quote from American Choice after a friend made the recommendation. I called on a Monday and quickly had an appointment set up for Tuesday. After the initial home inspection, we had just wanted a quick quote on some items the other inspector had mentioned. However, we got so much more than expected. Brad was extremely thorough, knowledgeable and professional. He took pictures to show us when he got down from the roof... and took the time to explain what he found, what work was recommended to be done, approximate cost, and was very patient in answering all of our questions. He even double checked our email at the end. We felt well taken care of and we will definitely be using American Choice once this deal closes! read less

Brittany and Amer were amazing and the work was completed to satisfaction.Service: Roof installation

Great company, helped fix gutters quickly. Artem was very helpful and kind.

My roof replacement was done flawlessly, on time, and with all of the hard work of coordinating between insurance, inspection,... read moreMy roof replacement was done flawlessly, on time, and with all of the hard work of coordinating between insurance, inspection, and mortgage holder for me. Great results and great experience. read less

From the first phone call to the initial face-to-face meeting to work being performed on the roof and interior damage... read moreFrom the first phone call to the initial face-to-face meeting to work being performed on the roof and interior damage our experience with American Choice Exteriors, specifically, the Project Manager, Quincy Hill was exceptional. We had previously started working with a different contractor and advised Quincy of our experience and how important communication was to us and Quincy assured us he also believed communication is critical and ensured us that would not be an issue. On the initial roof inspection he thoroughly explained the process, provided a timeline, allowed us to select our shingles, accepted our deposit, delivered materials as promised, and completed the work in a timely manner. We would definitely recommend American Choice Exteriors and appreciate the professionalism and project management expertise provided by Quincy. read less

This company goes above and beyond to provide professional and quality services. I would recommend this company to anyone looking... read moreThis company goes above and beyond to provide professional and quality services. I would recommend this company to anyone looking for someone trustworthy, honest, and reliable. My roof has never looked better and I cannot say enough about American Choice- from the upgrades to the personal attention to every detail - I am so happy I chose them to get the job done. read less

I have never taken the time to write a review. However, I felt the need to share my experience... read moreI have never taken the time to write a review. However, I felt the need to share my experience concerning my roof replacement with American Choice Exteriors. American Choice Exteriors came highly recommended to me by a friend in the home remodeling business. I was very pleased from the beginning to the end with my experience. Amer came to my house and gave me a complete list of all that needed to be done to my roof. I had an old roof and a water leaking problem. He took the time to explain to me the options and his recommendation for my roof replacement. The installation crew showed up when expected and very professional. In closing, my yard was left very clean and I thank you for a job well done.Sincerely,H. Wood read less

Ameer was very pleasant and knowledgeable. He stayed in contact during the process. The work was completed on time... read moreAmeer was very pleasant and knowledgeable. He stayed in contact during the process. The work was completed on time and the area was cleaned when they finished. The roof is beautiful. I highly recommend this company. read less

Working with American Choice Exteriors was a wonderful experience! Amer was so helpful and helped us get the project done... read moreWorking with American Choice Exteriors was a wonderful experience! Amer was so helpful and helped us get the project done quickly and efficiently. I will be recommending them to everyone I know! read less

Bradley from American Choice Exteriors came to inspect the roof at my home located in Bethesda. He couldn't access the... read moreBradley from American Choice Exteriors came to inspect the roof at my home located in Bethesda. He couldn't access the attic due my guests staying. He came back and inspected the Attic, the Ceiling and the Roof. He found the leak plus shared all the photos and damages with me. Then he went back to the roof and fixed the leak. Now my ceiling is dry and no leak, I had no idea that such a great company exist and such a good technician like Bradley. Bravo for the help on a holiday weekend. Joseph read less

Great prompt service. Highly recommend.

I had the pleasure of working with Quincy from American Choice to replace the roof of one of my client's... read moreI had the pleasure of working with Quincy from American Choice to replace the roof of one of my client's homes. From start to finish, everything went so quick and easy for all involved. Quincy was great to work with and I now will be referring all friends, family and clients to them in the future! read less

I highly recommend American Choice Exteriors! I would give them 5-plus stars. Our roof was damaged in a storm -... read moreI highly recommend American Choice Exteriors! I would give them 5-plus stars. Our roof was damaged in a storm - Quincy and Amer successfully helped us navigate the insurance claim process They kept us informed and met all deadlines. The service and communication were top notch. When we got approval from the insurance company our old roof was removed and the new one installed in a day. We are super happy with our decision to use American Choice Exteriors and you will be too! read less

I was really happy with my experience with American Choice Exteriors. They were responsive and were able to come out... read moreI was really happy with my experience with American Choice Exteriors. They were responsive and were able to come out immediately when I noticed a leak on my roof, and even were able to do the roof tune-up the very next day before more rain came. They were also very reasonably priced despite the quick turnaround time. And most importantly - they were extremely service-oriented. While on the roof, Brad noticed a piece of siding had come loose on the domer and replaced it for me. When I had a similar issue a couple months later, American Choice took care of it again.With that kind of service and responsiveness, there is no reason for me to ever go anywhere else for roofing issues. They've won my trust and business! read less

American Choice Exteriors did a fantastic job replacing my roof! Amer's crew was professional and friendly and did a quality... read moreAmerican Choice Exteriors did a fantastic job replacing my roof! Amer's crew was professional and friendly and did a quality job. They made the entire process easy. I would highly recommend them!Service: Roof repair read less

I was very pleased with my roof replacement. It was a pleasure working with Amer as he explained the... read moreI was very pleased with my roof replacement. It was a pleasure working with Amer as he explained the entire process and followed up upon completion. I would definitely recommend American Choice Exteriors. read less

My experience with American Choice Exteriors was EXCELLENT!!! American Choice Exteriors, specifically, the technician Amer, definitely deserves a 5-STAR... read moreMy experience with American Choice Exteriors was EXCELLENT!!! American Choice Exteriors, specifically, the technician Amer, definitely deserves a 5-STAR rating!!! Amer, was very responsive, knowledgeable, courteous, and extremely professional. I highly recommend American Choice Exteriors to other customers who require roof repairs. Thank you for your services!!! read less

American Choice Exteriors replaced my roof. They were very professional, pleasant to work with and I was very pleased with... read moreAmerican Choice Exteriors replaced my roof. They were very professional, pleasant to work with and I was very pleased with my brand new roof. I give them a five star and would recommend them to anyone who needs a new roof.Service: Roof installation read less

I want to personally commend the owner for taking time out to ensure that everything would be done as stated.... read moreI want to personally commend the owner for taking time out to ensure that everything would be done as stated. Everything from customer service, pricing, and the installation of our roof was nothing less than perfection. We were more than satisfied with the quality of work from this company. American Choice Exteriors, has definitely exceeded all of our expectations. ⭐️⭐️⭐️⭐️⭐️ read less

The guys did a great job. Once finished, they cleaned up all the debris fallen on the lawn during the... read moreThe guys did a great job. Once finished, they cleaned up all the debris fallen on the lawn during the tear-off. Very professional. read less

We had an excellent experience with American Choice Exteriors from start to finish!The staff and crew were professional, timely, accessible... read moreWe had an excellent experience with American Choice Exteriors from start to finish!The staff and crew were professional, timely, accessible and extremely helpful through the entire process.Amer guided us and kept us informed throughout the process. He accommodated all of our roofing needs and kept the price affordable.The crew was friendly and reliable. They completed the roof installation within one day and left the area very clean.The roof looks beautiful!! I'm so pleased we chose American Choice Exteriors and I would recommend them to anyone! read less

My roof looks great. I couldn't even tell that it rained all day yesterday. That's how quiet it is now.... read moreMy roof looks great. I couldn't even tell that it rained all day yesterday. That's how quiet it is now. My roof is so beautifulServices: Roof installation, Gutter installation read less