Request Your Free Roof Estimate Today!
Rockville's Affordable
Residential & Commercial Roofing Company
Proud To Offer A Lifetime Transferable Installation Warranty
Zero Payments & 0% Interest for 24 Months
Our Job Sites Are Left Squeaky Clean
Local Family Owned & Operated
5-Star Google Rating & BBB A+ Rating
REQUEST YOUR FREE ROOF ESTIMATE
I am very impressed with Brandon. He's a nice young man and very honest. American Choice Exteriors is a great company and I would recommend them if you ever need your roof repair or replaced. Very honest and professional. No high pressure sales. Thank you Brandon!
Dennet Oregon
May 22, 2022.
Had the roof of my shed repaired. Damage was due to falling branches. Amir, the owner sent an employee out to inspect the damage same day as request. The employee came out on time and was very respectful. Overall I'm happy I chose American Choice Exteriors for this smaller job. I will definitely be using them to replace the siding on my house.
Chenhong Zhang
May 19, 2022.
Al Daniels
April 2, 2022.
Brandon was honest and quick. We had some roof shingles blow off in a storm and we called for help even though our roof was relatively new. He gave us a fair price ($800 less than what another roof repair company had quoted us the day before) and he was able to complete the work the same morning. Now we have peace of mind knowing we were able to get the shingles repaired before the next rain storm. We will definitely call American Choice Exteriors for roofing needs in the future. Also worth mentioning it was easy and convenient to schedule this appointment online
Stephen Chite
February 28, 2022.
American Choice Exteriors patched our roof after a branch fell and punctured our roof. They were incredibly responsive, answering calls and texts on a Sunday morning, and they came out within a few hours to patch up the hole in our roof. They were also helpful in making sure everything was coordinated with our insurance company, making the claims process much easier than it could have been. When it came time to replace the roof, it was really easy to get a date scheduled, and they ended up starting the project a day early. Most impressively, they removed two layers of old roofing and installed a new roof all in one day. Amer and Brandon both remained incredibly communicative and helpful throughout the process.
Cyriac Edappully
February 18, 2022.
Brandon did a great job communicating with my insurance company to get a new roof installed. Brandon was very professional and explained all the steps necessary to get the job done. Brandon was also very punctual and quick to respond to questions and messages. Once we had a date selected for the install the team came out finished a smooth installation and clean up.
Jon Choi
January 12, 2022.
tedrick vernon
December 15, 2021.
Reach Ricw
December 15, 2021.
Fantastic service I would use them again in a heartbeat Britney the receptionist was prompt in responding back to my voicemail Brandon cade the representative that came out was phenomenal very professional was able to explain clearly and concisely what services were offered and was professional the entire time and no question was treated as if it was a dumb question. He took pictures of the shingles that needed replacing and he replaced them promptly. As a customer I am one of the few customers that not only brings it to the attention Of the owner or manager when I'm displeased but I also bring it to them when I'm pleased and this is one of the interactions that I am very pleased with and I would definitely recommend and use this company again and I would ask for Brandon by name to come out to my house For future service and also suggest that anyone reading this review request him by name as well
Maria Saadiqa
December 14, 2021.
Great service, ontime, reliable and professional. Can not ask for better



Old Roof? New Homeowner? Do You Have Storm Damage?
You Can Trust American Choice Exteriors to Get the Job Done Right!
Instant Rebates
For a limited time, we are offering instant rebates of up to $2,000 off your full roof replacement!
Zero Payments & 0% Interest For 24 Months
Financing options as low as $90 a month for qualified applicants.
Same Day Estimate
Providing roof estimates on the same day is our specialty. Our next-day estimates are available for more complex projects.
Price Match Guarantee
Did you get a roofing estimate from one of our licensed competitors who is an accredited BBB member? Bring it to American Choice Exteriors and we'll beat it!
One-Day Roof Installation
The majority of our roofs are completed in one day, and we always put quality first.
Our Job Sites Are Left Squeaky Clean
We don't consider the job complete until the yard looks just like it did when we arrived.
Local Family Owned & Operated
As a professional local roofing company, we have decades of combined experience in all types of roofing systems with experienced and proven track record.
5-Star Google Rating & BBB A+ Rating
American Choice Exteriors has maintained 5-Star reviews from verified clients who recommend our services based on their satisfaction.
Lifetime Transferable Installation Warranty
Our materials are of the highest quality and top rated. They are backed by a lifetime manufacturer's material warranty and a lifetime installation warranty.
Licensed, Insured & Verified
We maintain all licenses and insurance. For your comfort, we also maintain verified reviews and references. 
We Work With Many Types of Roofs
Simple 3 Steps to Getting Your New Roof
2. Estimate
Our Roof Specialist will conduct the Free Estimate
3. Installation
Schedule a Time for Your New Roof to Be Installed.
Who We Are & Why We're Here
American Choice Exteriors is a local family-owned and operated business located in Rockville, MD specializing in affordable roofing replacement services. With our extensive roofing knowledge, state-of-the-art roofing techniques, technology, our same-day estimates, instant rebates, price match guarantee, and one-day roof installation, we have remained one of the leading choices for affordable roofing replacements for both residential and commercial properties.
Our goal is to ensure you are well-informed about the entire installation process and are completely satisfied with your roof replacement package – and with over 30 years combined experience in the industry, we are confident you will be. We place the highest priority on providing excellent customer service. As a result, we have maintained an A+ rating with the Better Business Bureau and a 5-star Google Rating. American Choice Exteriors has become one of the most trusted roofing contractors in the Maryland Area.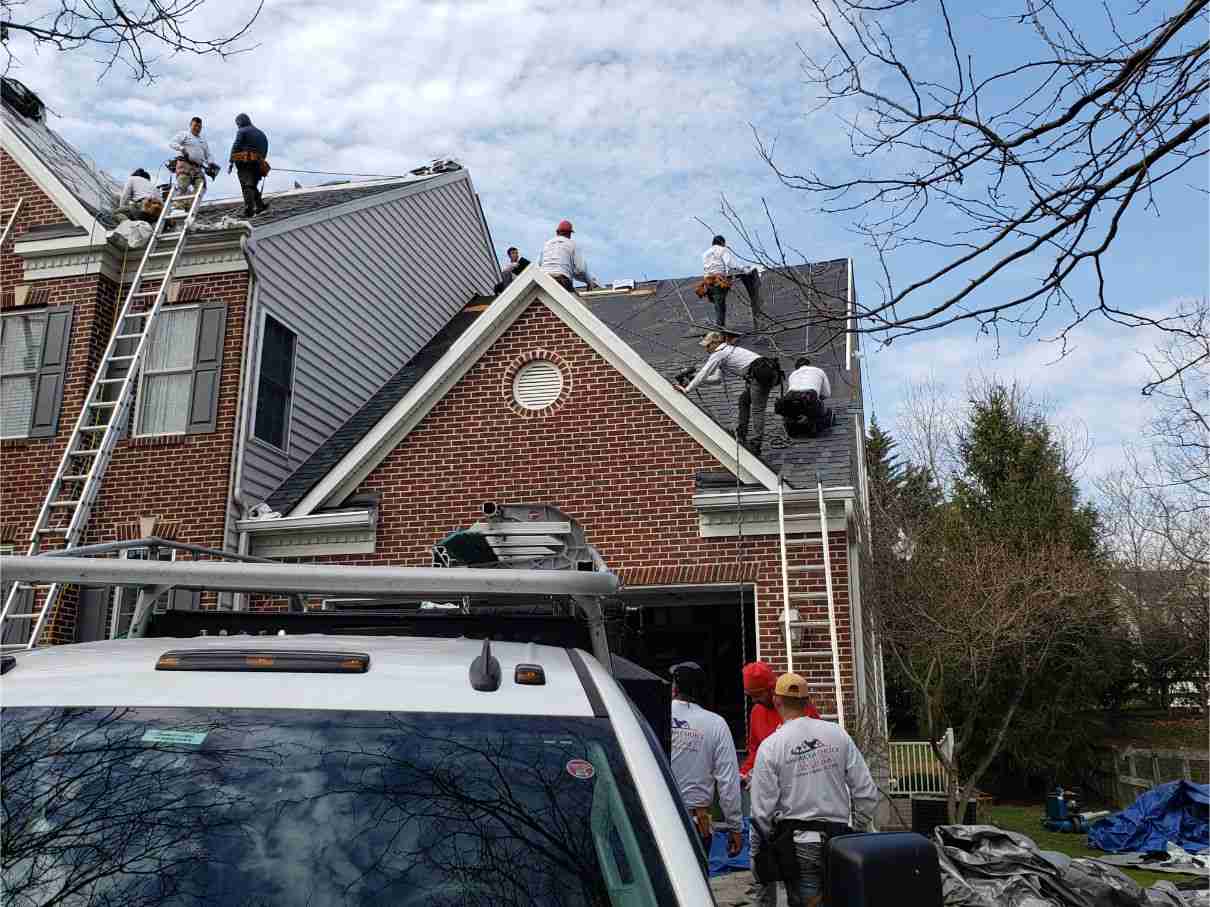 Our Team, at American Choice Exteriors is Here To Help Answer Any Questions You May Have!
Get Your FREE Roof Estimate Today!
© 2022 American Choice Exteriors. All rights reserved | MHIC# 135570 | Roofing Contractor Rockville, MD
This site is not a part of the YouTube, Google or Facebook website; Google Inc or Facebook Inc. Additionally, This site is NOT endorsed by YouTube, Google or Facebook in any way. FACEBOOK is a trademark of FACEBOOK, Inc. YOUTUBE is a trademark of GOOGLE Inc.